DWIGHT EVANS
October 2012

In 1969, third baseman-outfielder Dwight Evans became the second Chatsworth player drafted by a major league team when the Boston Red Sox selected him in the fifth round.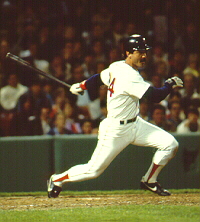 That year, Evans was the West Valley League player of the year after leading the Chancellors to a 13-3 overall record and the league title with an 8-2 mark.
Evans broke into the major leagues briefly in 1972 and became Boston's right fielder in 1973. He played 19 seasons with the Red Sox and finished his career with the Baltimore Orioles in 1991.
Although a reliable hitter who batted .290 or above five times and finished with 385 home runs, of which 379 were hit with the Red Sox and are the fourth-highest total in club history, Evans was known for a superb arm and defensive skills. He earned eight American League gold gloves and was a three-time All-Star.
Evans hit a career-high 34 home runs in 1987 but finished in a five-way tie for third place in the American League. Yet, his 22 home runs in 1981 were sufficient to earn a share of the home run title in the league.
Evans is now a player development consultant for the Red Sox.