BOB LOFRANO
October 2012

For three decades, Bob Lofrano produced winning teams as a baseball coach.
During the 1980s, Lofrano put together a formidable Chatsworth baseball program that won a Los Angeles City title in 1983 — the school's first — and was nationally ranked.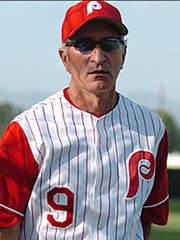 Lofrano, a former Chatsworth infielder, coached the Chancellors in 1975 and from 1980 to 1989. His record, excluding the 1975 season, was 210-65 and he guided Chatsworth to West Valley League titles from 1981 to 1989.
An outstanding second baseman at Pierce College, Lofrano played on a Brahmas infield that included future major league players Doug DeCinces and Rick Auerbach.
As coach, Lofrano guided the Brahmas to several Western State Conference titles and his teams reached the state playoffs seven times in an eight-season period, from 1991 to 1998. He led Pierce to the Final Four of the state playoffs in 1992, and the Brahmas reached the state playoffs in 2000 and 2003.
Lofrano is now athletic director at Pierce.